Ecological Coatings' Easy Clean Coating and Easy Clean Paint can protect your equipment and facilities from corrosion, machinery malfunction or reduced efficiency due to messy build-up during production. Down time to clean machinery is costly. Using 2000 Series Easy Clean, Non-stick Coating creates a hard abrasion resistant, slick, washable surface that cleans easily with soap and water, reducing equipment down time for maintenance and labor cost.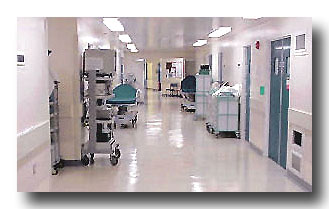 Mud, oil, grease and petroleum waste are repelled by the coating and easily cleaned. The mar resistant finish prevents scuff marks from shoes and boots on walls in corridors and elevators. Hospitals can coat walls to prevent marring from wheelchairs, hospital beds and transport stretchers. Dust does not cling to the coating and will not penetrate due to the high cross-link density of the coating. Clean rooms, pharmaceutical plants and manufacturing facilities benefit from the easy clean surface.
If you have an area in your facility that frequently requires cleaning or re-painting, Ecological Coatings 2000 Series Coatings can provide a cost effective solution on maintenance while maintaining a visually pleasing work area.
Easy Clean Coatings in this series include both Clear and Pigmented varieties to fit most all applications.
Benefits of using 2000 Series

Easy Clean Coatings & Paints

Waterborne
Green, Non-Toxic, Low VOC
Clear And Pigmented Formulations
Low Odor
Quick Dry
Durable, Abrasion Resistant
Applied Via Spray, Roller or Brush.
Anti-stick / Non-stick
Easy Clean, Washable Using Soap And Water
Mar & Stain Resistant
Weather Resistant
Chemically Resistant
Suitable For Immersion
Excellent Slip (Friction Reduction)
Excellent Release Properties
Resists Mold & Mildew
Simple Single Coat Application
Single Coat Coverage
Fast Cure Time

Typical Applications

2000 Series

Manufacturing / Processing Equipment
Hospitals
Elevators
Clean Rooms
Dusty Areas
Cafeterias
Commercial Kitchens
Repair Garages
Parking Garages
Airports
Bus Interiors and Bus Stations
Subway Terminals
Waste Hauling
Dumpsters
Truck Frames
Plastic Recycling
Walls
Halls
Stairwells
Walkways
Assembly Lines
Conveyors
Funnels
Air Ducts
Exhaust Fan Blades & Assemblies

Orders | Information | Technical Support
To place an order for our Easy Clean Products, receive additional product information or technical support, please contact Ecological Coatings via phone or e-mail and one of our representatives will be happy to assist you.

Ecological Coatings, LLC | P.O. Box 4202 | Clifton Park, NY 12065 | 518-383-9585
EcologicalCoatings.com