The hydrophobic, low surface energy, non-stick properties of Ecological Coatings Foul-Release Anti-Fouling Coatings results in low bio-fouling adhesion. This is true for Zebra Mussels, Quagga Mussels and all bacterial and algal bio-films.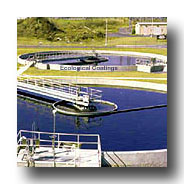 Perfect in the waste-water industry, Ecological Coatings Foul Release Coating provides a slick, non-stick surface that can be self cleaning with steady water flow over the surface. Other areas are easily cleaned with a sponge, cloth or mop wipe.
Ecological Coatings are water-based and non-toxic. Don't confuse our environmentally friendly antifouling coatings with those toxic anti-foul Coatings on the market which release copper to kill organisms and are hazardous to the environment, thereby attempting to solve one problem while creating another.
With hard abrasion resistant properties and its excellent adhesion to a wide range of substrates makes our coatings conducive to repeated cleaning by pressure washing. The lubricity of the coating makes cleaning much easier by dramatically reducing friction.
From the Low V.O.C. (volatile organic compound) rating of the water based chemistry to its non-toxic, non-leaching working principle, these antifoul coatings have minimal environmental impact.
Our Foul-Release Coatings are actually full maintenance coating systems with all the properties you would expect from a premium maintenance coating system.
Hydrophobic

Anti Foul

Non-Stick

Water-based, Low VOC, Non-toxic

Abrasion resistant

Corrosion resistance

Low Co-Efficient Of Friction

Outdoor weathering resistance

Above and below water performance immersion coating

Wide temperature operating range

Excellent thin film performance

Easy single coat application over most immersion primers, top-coats or linings

Orders | Information | Technical Support
To place an order for our Foul-Release / Anti-Fouling Paints & Coatings, receive additional product information or technical support, please contact Ecological Coatings via phone or e-mail and one of our representatives will be happy to assist you.

Ecological Coatings, LLC | P.O. Box 4202 | Clifton Park, NY 12065 | 518-383-9585
EcologicalCoatings.com