Reduce friction with Ecological Coatings 2000 Series Friction Reduction Coatings and slippery paint. Provide a durable, abrasion resistant, slippery surface with outstanding low surface energy. Our low friction coatings and low friction paint have a high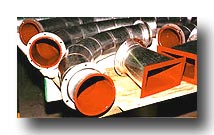 cross-link density which make them easy to clean and reduce marring and staining.
When two surfaces are coated with 2000 Series, the parts easily slide on each other, the slippery coating acting as a dry lubricant.
Dust is not able to grip the slick coating so any slight agitation causes particles to release keeping the surface clean. Air movement through ductwork and over fan blades coated with 2000 Series low friction coating creates a self cleaning surface.
2000 Series low friction coating is also suitable for immersion. The power industry coats head gates and tracks as well as nuts and bolts to prevent corrosion and binding of parts that must slide on other parts.
Although friction elimination is not possible by using any slick coating or paint, the industry terms of Anti-Friction Coating / Coatings and Anti-Friction Paint / Paints are often used to describe these types of slippery coatings that reduce friction significantly compared to standard acrylic, epoxy, urethane or enamels typically used in industry.
Benefits

2000 Series Friction Reduction

Hard, Durable Abrasion Resistant Finish
Excellent Release Properties Similar To Teflon
Slippery Paints, Slippery Coating
Low Surface Energy
Low Co-efficient of Friction ... Reduce Friction
Cleans With Soap And Water
Chemically Resistant
Low VOC Waterborne Formulations
Hydrophobic
Single Coat Application
Conventional or Airless Spray Application, Roll or Brush
2000 Series Pigmented or Clear Friction Reduction Coatings Can Be Easily Applied In The Field Or Shop Facility. Professional Application Is Also Available At Our Facility In New York, USA If You Require That Service.

Typical Applications

2000 Series Friction Reduction

Roll-Up Doors & Frames
Knife Gate Valves
Penstocks
Head Gates & Tracks
Pipe Interiors
Assembly Lines
Conveyors
Funnels
Chutes
Air Ducts
Fan Blades & Assemblies
Table Tops
Walls
Water Park Rides & Slides
Snow Plows & Snow Blowers
Piles
Forms
Earth Drills
Augers
Saw Blades
2000 Series Coatings are applied in a single coat over one of our water-based primers, acceptable primers or sound, clean, top-coats in a thin film application of 2-4 mils dry film thickness depending on the specific product in the series. Any surface coated will be slippery and therefore these products are not suitable for foot traffic areas such as floors, stairs, steps, ladders, railings and platforms.
Orders | Information | Technical Support
To place an order for our Anti Friction Coating or Anti Friction Paint, receive additional product information or technical support, please contact Ecological Coatings via phone or e-mail and one of our representatives will be happy to assist you.
Ecological Coatings, LLC | P.O. Box 4202 | Clifton Park, NY 12065 | 518-383-9585
EcologicalCoatings.com