While ice formation in nature can be a spectacular site, it can also be disastrous when bridges, cables, towers and antennas accumulate ice. Ice formation on these structures has caused communication towers and antennas to topple, destroyed satellite and microwave dishes, caused accidents from falling ice off of bridges and have caused numerous injuries to people walking under cables with falling ice.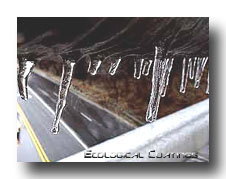 Danger Of Ice On Bridges
What's The Solution?
Ecological Coatings 3000 Series Icephobic Coatings.
How Does It Work?
Our icephobic coatings (anti-ice coatings) create a slick, non-stick, hydrophobic surface when applied to steel, fiberglass, aluminum and over most painted surfaces. Water beads up on the coating, much like water beads up on a newly waxed automobile. Since the icephobic coating is anti-stick in nature, the high contact angle of the water pulls the bead of ice that is forming away from the coating so there is little surface area for the ice to attach. It's own weight pulls it off of the paint surface before it has a chance to form into large icicles that can cause harm.
Benefits

3000 Series Icephobic Coatings

Waterborne
Non-Toxic
Low V.O.C....
Excellent Non-Stick
Excellent Icephobic Properties
Excellent Hydrophobic Properties
Reduces Ice And Snow Accumulation
Durable
Easy Clean
Stain Resistant
Mar Resistant
Chemically Resistant To Road Salt
Weather Resistant
Easily Applied Via Spray or Roller
Single Coat Coverage On Non-Porous Surfaces!
Easily applied to metals, fiberglass, concrete, wood and some plastics.
Finish - Matt

Typical Applications

3000 Series Icephobic Coatings

Bridges (Cables, Railings)
Communication Towers
Antennas
Guy Wires
Wind Mills
Cables
Satellite Dishes
Microwave Domes
Fire Watch Stations
Overpasses
Elevated Walkways
Roof Edges
Ships
Train Cars
Tractor Trailers
Heavy Equipment Exposed To Ice/Snow

Orders | Information | Technical Support
To place an order for our Anti-Ice Coatings & Paint, receive additional product information or technical support, please contact Ecological Coatings via phone or e-mail and one of our representatives will be happy to assist you.

Ecological Coatings, LLC | P.O. Box 4202 | Clifton Park, NY 12065 | 518-383-9585
EcologicalCoatings.com