Series 7000 Water-based Mold Release Coatings provide a durable, permanent, protective, slick coating on molds to replace spray on release agents, which must be re-applied over and over depending on the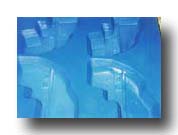 production cycle. Those mold release agents contaminate the product when released and the mold must be cleaned prior to finishing. Series 7000 Mold Release Coatings are unique water-based formulations with silicone grafted to the polymer, so there is no transfer of silicone to the product. Your product releases easily and cleanly. There are no hazardous oils or release agents to dispose of which will save money and will not harm the environment.
Series 7000 Mold Release Coating is available in a variety of formulations to fit your requirements. Our Technical Staff will be happy to assist you in choosing the appropriate coating for your application.

Benefits
7000 Series Mold Release Coatings
Waterborne
Low V.O.C.
Environmentally Friendly
Excellent Non-Stick & Slip Properties
Clear And Pigmented Coatings In This Series
Durable Long Lasting Coating - No Need To Re-Apply Like Oils And Lubricant Release Agents
No Transfer Of Release Agents To The Product
Save Time And Money On Purchase, Application And Disposal Of Release Agents
Corrosion Resistant
Abrasion Resistant
Easily Applied Via Conventional Or Airless Spray
Single Coat Coverage

Orders | Information | Technical Support
To place an order, receive additional product information or technical support, please contact Ecological Coatings via phone or e-mail and one of our representatives will be happy to assist you.

Ecological Coatings, LLC | P.O. Box 4202 | Clifton Park, NY 12065 | 518-383-9585
EcologicalCoatings.com